Testimonials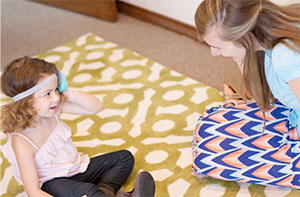 "My son had been seeing another therapist in the same firm that Kristin worked at. His other therapist left the firm and my son was reassigned to Kristin. He was slowly getting better with the other therapist and we were apprehensive about changing, however, when Kristin started working with him, things improved pretty rapidly. She was more assertive with him than the other therapists. Meaning – he didn't get away with throwing a fit, crawling around on the floor, half listening. She really made him focus and do his part before he was given a treat or a task that he really liked. With us parents, she helped us transition from being in the room with him. Up until we started working with Kristin, we were too nervous to send our son in the room with the therapist because we somehow felt we could help (which we were clearly not helping and were probably more of a hindrance). Kristin really pushed all of us to the next level, not just with speech, but behavior and parenting!"
 "Kristin did an amazing job working to correct our daughter's lisp. I was initially told it could take a year or longer to fix the issue, but with the twice weekly therapy session, and consistent work at home, we were finished in just four short months. Better than that, She actually enjoyed going to speech therapy and talked about how much she loved playing with Miss Kristin. It didn't even seem like work to her! My son appears to have the same problematic speech pattern and if he needs speech therapy in a couple of years, we will use Spark Speech and Language Therapy without hesitation."
Where do I begin? My youngest child was born at 28 weeks gestation, 3 months early.  As a mom and a NICU/Pediatric RN, I know the developmental setbacks a child can endure from prematurity. As my son got older, I noticed he was not speaking, only babbling and pointing to things when he wanted something.  I sought out the help of speech therapy when he was a little over 1 1/2 years old. We were blessed to have been teamed up with Kristin. She is absolutely an angel on earth.  My son went from saying pretty much nothing to improving within months.  She was so patient with him and so encouraging when I got discouraged.  She has been such a blessing to our family and I am forever grateful for us to have been able to work with such a beautiful person inside and out.  She was with us during the most trying time in my son's speech problem and I truly believe she is the reason, why, to this day, he continues to flourish with his speech.  He is now 2 1/2 years old and speaking so much!   My son would smile and get excited when we were going to see "his kistin". I cannot thank Kristin enough for her time, her knowledge, her expertise.
I had speech therapy for over a year with Kristin. Over that period she helped me overcome the fear of stuttering by helping me change my thinking and perceptions about stuttering.  I learned to be open about the fact I stutter and not be afraid or shy of it feeling that it made me inferior to others.  Also I learned to change my thought process and control my tendency to over generalize and assume the worse whenever I would stutter and think people behaved negatively towards me based on that fact that I stutter.  This shift in thinking made me more comfortable and accepting of the fact that I stutter and its not something to be afraid or ashamed of but more importantly, it in turn made executing my speaking techniques a lot easier because I was no longer afraid to 'make a mistake' and stutter.  I was also able to talk about the fact that I do stutter to people and make them comfortable because most people do not know how to react to persons who stutter.  The entire process helped me rediscover myself and helped me gain an appreciation for who I am  as a person and not simply see myself as a stutterer. I was able to get my affairs in order, became more open, work became enjoyable and finally I was able to go back to school to pursue the graduate degree I was so afraid to do. Kristin is very passionate about helping people and is genuinely a really good person with a good soul. She is encouraging yet also tough and will help you push boundaries and expand your comfort zone during the therapy process. Kristin has been God-sent and I would recommend her as a therapist to everyone.
Tags: speech delay, testimonials, therapist